What is the grinding balls production line?
What is the grinding balls production line?
The grinding balls production line is designed by Ningguo Hexin company. Adopts PLC intelligent automatic program control, which has the advantages of safety and energy-saving, high automation degree, stable product quality, high production efficiency, and simple operation.
It is widely used in the production of casting grinding balls from dia30mm to dia130mm with different iron alloyed, crankshaft, camshaft, brake drum, wheel hub, end cover flange, traction wheel, machine base, casting ball, casting section, water meter, etc. This grinding media production line has improved the working conditions of workers and improved the quality of products. Technology and equipment performance in the domestic is at the leading level.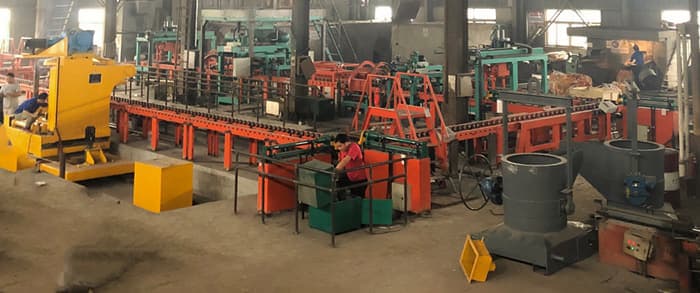 Sand-coated iron mold process flow
Pre-heat iron mold to a certain temperature;

The iron molds go to the sand shooting device, coating the precoated sand in the cavities;

Iron Mould Sand Coating Inspection and manual repair;

Fixed-point or mobile pouring by pouring machine;

Open the molds and take out the castings

Clean the residual sand

Re-molding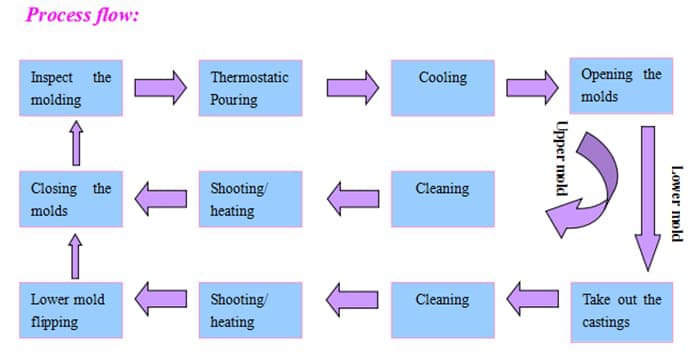 Characteristics
Hydraulic drive to keep the production line working steadily.

Costs of maintenance are low, the operation is easy.

Compared with traditional manual work, reducing a lot of labor costs.

The HMI can directly show the equipment's working conditions in production. It's better to keep the equipment working normally and it's convenient to maintain. It can improve the equipment's degree of intelligence and automatic control.