HOW TO PRODUCE THE QUALIFIED CASTING CHROME GRINDING MEDIA BALLS?
The manufacturing process of casting chrome grinding media consists of 6 Main Steps: Melting – Raw material analysis – Molding(making balls) – Seprating & Cleaning – Heat Treatment – Packaging. For each step matches with the certain equipment, including induction melting furnace, balls making production line (metal mold), grinding media separating and cleaning machine, heat treatment machine ( quenching & tepempering) and auxiliary equipment, such as lab testers, precoated sand recycling plant etc.
For each steps, we recommend Valued, Plus, and Delux equipment based on our clients requirements. Considering target countries' labor, environment situation will suggest the fully automatic and manual producing process to our clients.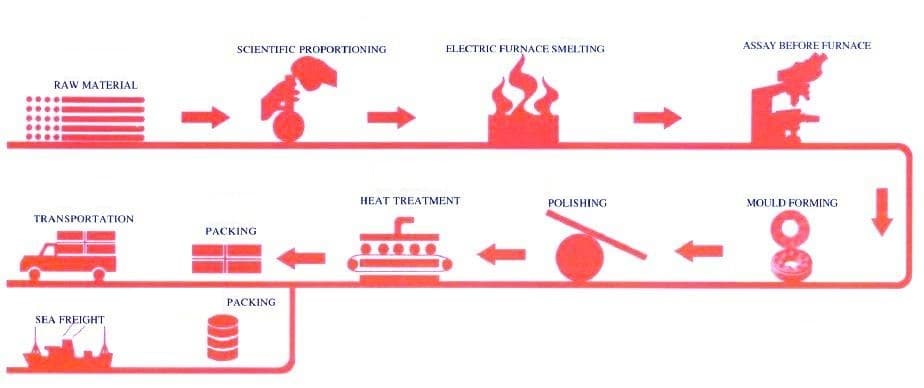 1
Raw Material: Iron scrap, ferrochrome, carburant…
2
Lab Analysis: Spectrometer, Hardness Tester, Impack Value …
3
Induction Melting Furnace to melt the Raw Material
4
Lab Analysis: Spectrometer, Hardness Tester, Impack Value …
5
Molding: auto molding line or manual metal molds
6
Separating & Cleaning Balls
7
Heat treatment: quenching & tempering
8
Packing in iron drum or  ton plastic bag